Blossom Music Center | Cuyahoga Falls, Ohio
Are you ready for this?? That's right, Wiz Khalifa is headed out on the Decent Exposure tour this year in support of his hot new album "Fly Times, Vol. 1: The Good Fly Young"!! A special lineup of guests will be joining him on the road including French Montana! It's all happening at the Blossom Music Center on Tuesday 30th July 2019 – don't miss it!! Grab your tickets now, before they disappear!!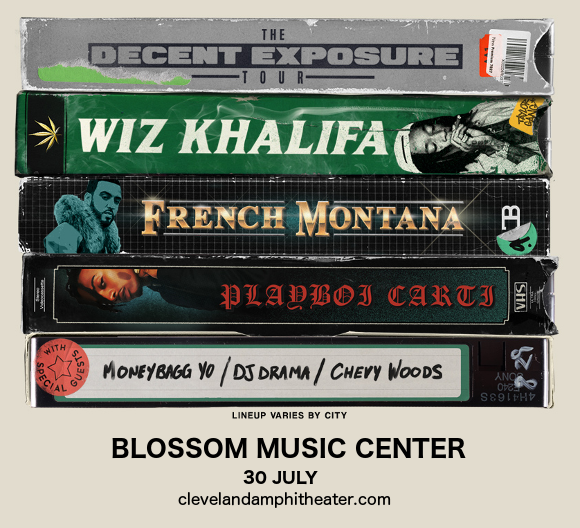 First emerging on the contemporary hip-hop scene in 2005, Wiz Khalifa made a name for himself with the album "Show and Prove", with the single "Say Yeah", hitting both the Rhythmic Top 40 and Hot Rap Tracks charts in 2008. Since then, he's grown in leaps and bounds, with no less than 7 full-length albums under his belt, several number-one hits and collabs with some of the biggest artists in hip-hop! This year, just in time for 4/20, the rapper, known perhaps above all else for his heavy use of marijuana, dropped "Fly Times, Vol. 1: The Good Fly Young" featuring a number of guest appearances from HUGE names including Currensy, Problem, Ty Dolla Sign, THEMXXNLIGHT and many more!!
It's an album of totally dope anthems for tokers and hip-hop fans alike. Are you ready to hear it live?? Then don't delay – tickets are expected to sell out quickly, so get 'em while you still have the chance and head on down to the Blossom Music Center for Tuesday 30th July 2019!