Blossom Music Center | Cuyahoga Falls, Ohio
Do you tune in to the radio during your morning commute to listen to the news? Or do you browse on your social media newsfeed to find out 'at-the-moment' news-worthy happenings in your area? Stories get around fast these days, but do you actually know how to distinguish the legit from the fake news? Wait Wait… Don't Tell Me! is an hour-long weekly news-based radio panel show where contestants are quizzed about the week's trending news stories. If you're having fun listening to this on the radio, then why not have a ball by seeing and hearing this show live?! "Wait Wait…Don't Tell Me" is coming to the Blossom Music Center on Thursday 18th July 2019. Sit back, test your brain cells, and enjoy the hilarious banter of its distinguished news panelists and show contestants. Don't wait, wait 'til the last minute; get your tickets now!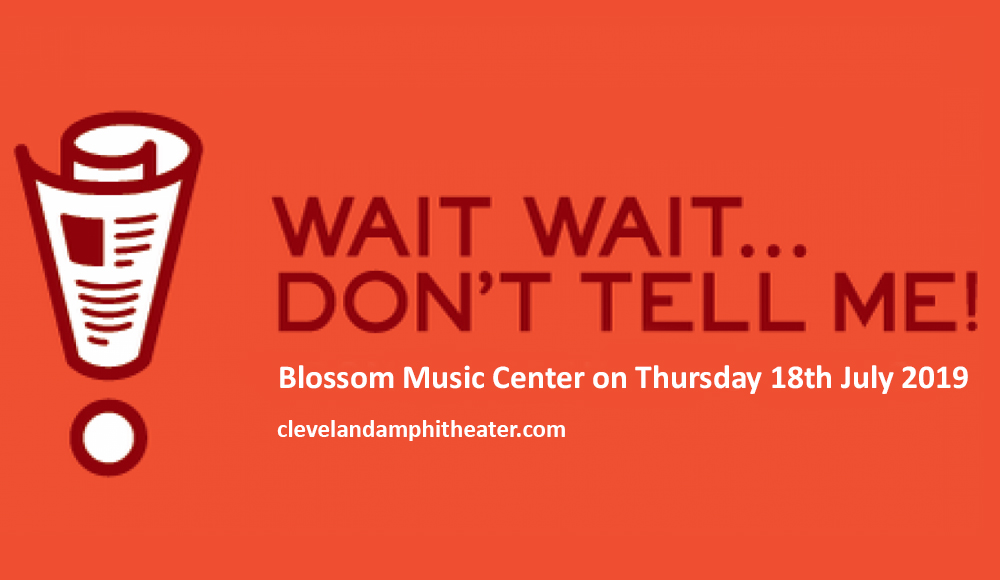 Legit news or fake news — can you tell which is which? With its first radio broadcast on January 3, 1998 in Chicago, Illinois, and produced by WBEZ and National Public Radio (NPR), "Wait Wait…Don't Tell Me" has become a national weekly pastime since. The show is said to garner an average of about 6 million weekly listeners on air and via podcast.
Featuring the talents of Peter Sagal, Dan Coffey, Roy Blount Jr., Tom Bodett, Amy Dickinson, Adam Felber, Kyrie O'Connor, P.J. O'Rourke, Charlie Pierce, Paula Poundstone, Roxanne Roberts, Mo Rocca, Simon Astell, Mike Birbiglia, Hannibal Buress, Drew Carey, Neko Case, Nick Hancock, Ken Jennings, Keegan-Michael Kay, Paula Pell, Alonzo Bodden, Luke Burbank, Bobcat Goldthwait, Peter Grosz, Maz Jobrani, and more, these talent lot include a game show host, official judge and scorekeeper.
"Wait Wait…Don't Tell Me" is taped in front of a live audience. And this is your chance to be part of and in the midst of where all the fun begins to happen. But, wait! First, book your tickets now!