Blossom Music Center | Cuyahoga Falls, Ohio
Legendary guitarist, Pepe Romero will be playing Rodrigo's Concierto de Aranjuez at Blossom Music Center this July 21st at 8 PM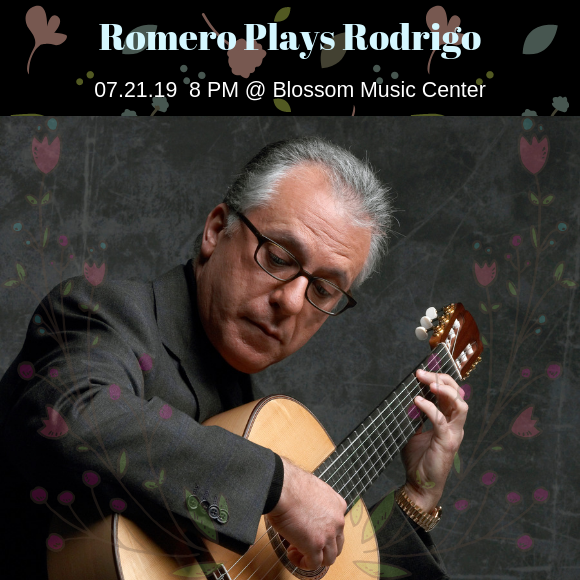 Inspired by one of Spain's royal gardens, Concierto de Aranjuez was composed by Joaquín Rodrigo to take listeners on a journey to another place and time with its hints of natural sounds. Every note is meant to bring you back into the fields of the beautiful Spanish gardens.
Playing Rodrigo's masterful piece is Pepe Romero, a legendary classical and flamenco guitarist. Romero is particularly noted for his outstanding technique and colorful musical interpretations on the guitar.
For contribution to the arts, Romero received the Premio Andalucía de la Músicahe in June 1996. In February 2000, King Juan Carlos I of Spain knighted Pepe Romero and his brothers, Celin and Angel, into the Order of Isabella the Catholic.
Romero is currently Adjunct Professor of Classical Guitar at the Thornton School, where he was named "Distinguished Artist in Residence" in 2004.
In 2007, the Romero Quartet (a band where Pepe plays the guitar with his brothers) received the President's Merit Award from the Recording Academy, the producers of the Grammy Awards. Fiver years later, in November 2012, Romero's recording of Concierto Festivo by Ernesto Cordero was nominated for Best Classical Album at the Latin Grammy Awards.
Every award and recognition received by Romero is a confirmation for his listeners that they are being serenaded by the best. So, here is an invitation to be mesmerized by famed guitarist Pepe Romero, who is renowned for his interpretation of this cherished masterpiece.
In addition to Romero Plays Rodrigo, there is a tasting room available as a new addition to this summer's Blossom Music Festival.
The Tasting Room is located near Lot A (previously the Bandwagon Gift Shop), The Tasting Room is open before and after the concert. Guests will be able to enjoy small bites and a selection of fine wines and spirits.
This event's wine tasting includes:
Infinito
Fuerza
Time Waits for No One
Sinergia
Montebuena
How else to spend the weekend if not being brought back to the royal Spanish gardens with sips of tasteful wines? Be ready to be spoiled by nothing but the best.