Blossom Music Center | Cuyahoga Falls, Ohio
If you wish to hear Aretha Franklin's best songs remade, you should attend Aretha: Queen of Soul on the 28th of July at Blossom Music Center. Be ready to be blown away by Broadway's favorite singer, Capathia Jenkins, in her attempt to bring the Queen back on stage!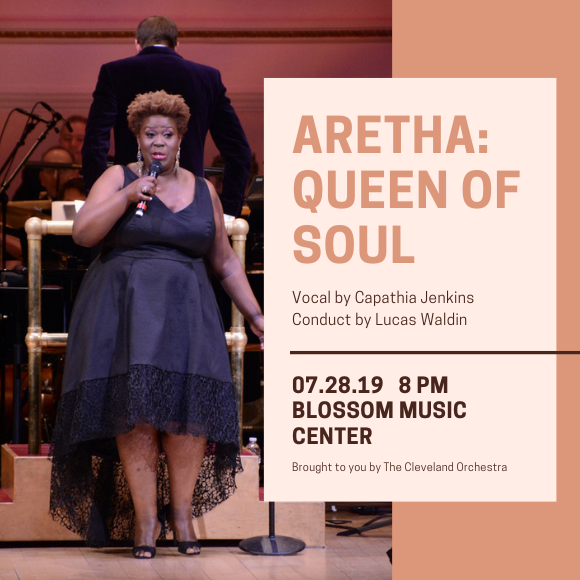 Multiple Grammy winner and "Queen of Soul" Aretha Franklin was known for her hits like "Respect," "Freeway of Love" and "I Say a Little Prayer."
She was born in Memphis, Tennessee, in 1942. She was the first woman ever to be inducted in the Rock and Roll Hall of Fame.
Franklin was interested in music and singing from a very young age. As a child, she taught herself to play the piano. Aretha's father recognized her talent for singing and became her manager from the time she was 14, trying to get her a deal with a record company.
She was signed for the first time by Columbia Records. Her contract with Columbia lasted for 6 years and she became an instant international craze. She then signed with Atlantic Records and Arista Records, the label that she stuck with for 20 good years.
Aretha Franklin was the winner of 18 Grammy Awards and has also received many American Music Awards. She had given to the world acclaimed albums like: 'I Never Loved a Man the Way I Love You', 'Soul Lady', 'Young, Gifted & Black', etc. She was one of the best-selling female artists of all time and had been listed twice on the '100 Greatest Artists of All Time' and '100 Greatest Singers of All Time' lists on the Rolling Stone magazine.
Taking over the stage to do her best in representing the Queen of Soul is Capathia Jenkins. She will be performing R&B standards such as "Respect," "Chain of Fools," and "(You Make Me Feel Like) A Natural Woman". Capathia Jenkins herself is best known for her work as a Broadway performer, with roles in shows such as Caroline, or Change, Newsies, and Martin Short's Fame Becomes Me.
Lucas Waldin will be the conductor for the Aretha: Queen of Soul performance along with Ryan Shaw (vocalist), The Cleveland Orchestra and Blossom Festival Chorus.
Aretha: Queen of Soul is bound to be a sold-out show so be quick to grab your tickets now!