Blossom Music Center | Cuyahoga Falls, Ohio
Come listen to Bruch's Violin Concerto under the baton of Klaus Makela as it comes to Blossom Music Center on Saturday 20th July 2019 at 8 PM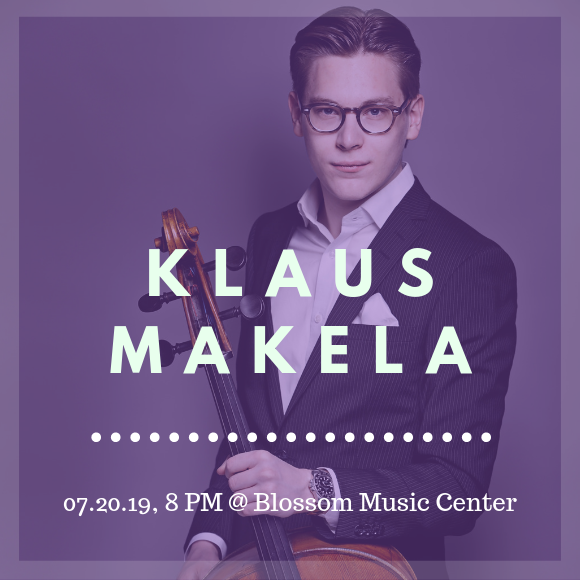 Klaus Mäkelä may be young but he is one with extraordinary talent. In fact, he is the newly appointed Chief Conductor and Artistic Advisor of Oslo Philharmonic (2020/21 season). Makela is also Principal Guest Conductor of the Swedish Radio Symphony Orchestra and Artist in Association with Tapiola Sinfonietta. Since 2019 Mäkelä was also designated as the Artistic Director of the Turku Music Festival. This simply shows how much power this young lad yields in his hands as a conductor.
Following a season of stunning international debuts in 2018, Makela returns to the Oslo Philharmonic Orchestra, MDR Leipzig and Iceland symphony orchestras and Orchestre National du Capitole de Toulouse. He has also begun his tenures with the Swedish Radio Symphony Orchestra, and Tapiola Sinfonietta where he is embarking on a Beethoven Cycle over the next 3 seasons. He will also be debuting with the Orchestre de Paris, Orchestre National de Lyon, Frankfurt Radio, Antwerp, Bern, and Malmö symphony orchestras and the Bergen Philharmonic.
Other than being an exceptional conductor, Klaus Mäkelä plays a Giovanni Grancino cello from 1698.
This 20th July, concert-goers will find Makela conducting The Cleveland Orchestra in performing Max Bruch's Violin Concerto No. 1. The creation is one of the most popular violin concertos in the repertoire and, along with the Scottish Fantasy, the composer's most famous work.
Under the baton of Makela is teen prodigy Daniel Lozakovich who will be performing in his Cleveland Orchestra debut.
Program of the night:
KODÁLY – Dances of Galánta
BRUCH – Violin Concerto No. 1
SIBELIUS – Symphony No. 5
Composer Max Bruch once said he loved the violin because it could "sing a melody better than a piano, and melody is the soul of music." Come listen to Bruch's most magnificent creation by purchasing your tickets now.