Blossom Music Center | Cuyahoga Falls, Ohio
Harry Potter and the Sorcerer's Stone (TM) in Concert – Film With Live Orchestra comes to Blossom Music Center on Sunday 30th June 2019
Relive the film that started it all. Watch the wand choose the wizard, a troll run amok, and magic mirrors in high definition while a live orchestra performs John Williams's iconic score. Don't miss this once-in-a-lifetime event as Harry, Ron, Hermione and all your favorite characters return to the screen and enchant the world all over again.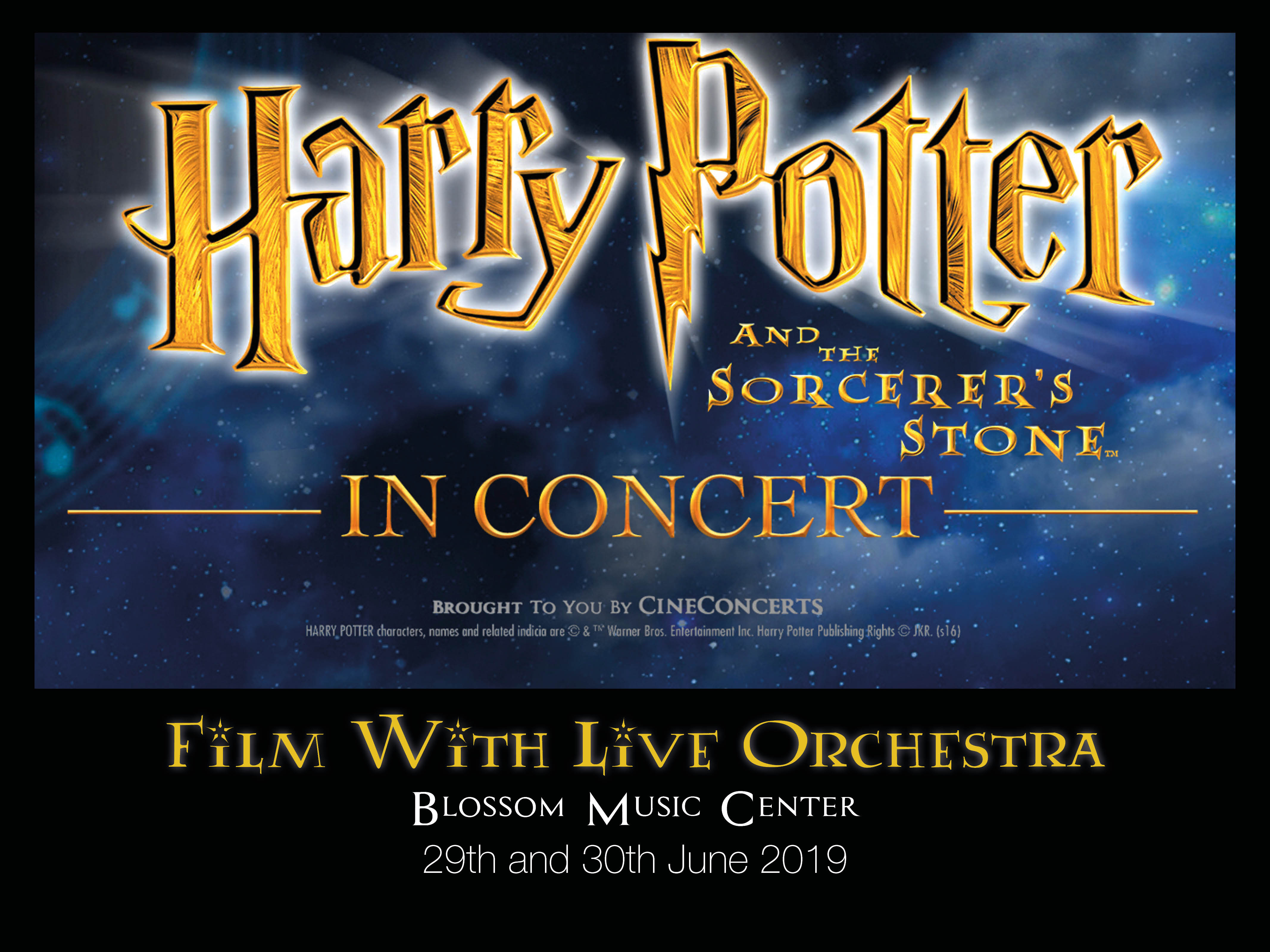 Harry Potter and the Sorcerer's Stone (2001) (PG (for some scary moments and mild language)
Brought to you by CineConcerts
Directed by Chris Columbus
Stars: Daniel Radcliffe, Rupert Grint, Richard Harris
Return to the magical school from the mind of J.K. Rowling, the story that launched her career into the stars, and the movie that helped make the book one of the best selling world wide phenomenons ever. With over a 100 million copies sold and translated into 46 different languages.
Harry Potter (Daniel Radcliffe) who lives under the staircase of his aunt and uncles house, receives a visitor in the form of a half giant Hagrid (Robbie Coltrane) who tells him he has been inrolled in the prestigeous Hogwarts School of Witchcraft and Wizardry, also that he is the son of James and Lily Potter, two very powerful Wizards.. Harry finds that he is something of a hero among the wizarding world and makes friends easily, but he soon finds out that this world is far more dangerous for him than he could possibly imagine
Harry Potter and the sorcerer's stone got an astonishing 81% fresh from rotton tomatoes with a Critics Consensus; Harry Potter and the Sorcerer's Stone adapts its source material faithfully while condensing the novel's overstuffed narrative into an involving — and often downright exciting — big-screen magical caper.
"The quickest, zappiest two and a half hours of entertainment you'll ever see." – Peter Bradshaw Guardian
"If for nothing else, the Harry Potter films always find a way to give me a great sense of nostalgia. I, like many others, grew up with this franchise. In many ways, this was our generation's Star Wars. It was the 2000's pop culture phenomena. I'm happy to say that the first film, The Sorcerer's Stone, still undoubtedly holds up. I feel like I should first mention just how impressive it is that Warner Bros and their casting directors found the perfect Harry, Ron, and Hermione. Yes, the rest of the film is also impeccably casted with Maggie Smith, Richard Harris, Robbie Coltrane, and Tom Felton just to mention a few, but it's the core three characters that carry this franchise." – Thomas D
The Cleveland Orchestra founded in 1918, quickly grew from a fine regional organization to being one of the most admired symphony orchestras in the world. The Cleveland Orchestra celebrated their centennial in 2018. It is one of Americas "Big five" orchestras and is acknowledged as one of the worlds very best. The Cleveland Orchestra has long been committed to the pursuit of musical excellence in everything that it does. The 100-plus members of The Cleveland Orchestra performances of standard repertoire and new works are unrivalled at home, in residencies around the globe, on tour across North America and Europe, and through recordings, telecasts, and radio and internet broadcasts.
Information and background about the music are printed in program books distributed free-of-charge at most Cleveland Orchestra concerts. The program notes are usually available on-line ahead of time
The orchestra will be led by Justin Freer, conductor
"The Cleveland Orchestra's visit to the Philharmonie de Paris was unquestionably a can't-miss musical event. Our expectations were fully met as we found the Austrian conductor's interpretation of Mahler's Sixth Symphony convincing, both in substance and in form. The orchestra upheld its reputation for excellence. This was a pertinent and intelligent interpretation, a very committed and convincing performance. Bravo!" – ResMusica (Paris), October 2017
"This is an orchestra that has the marvelous ability to shift between pathos and clear, structured thought, without exaggerated sound splitting, without theatrics. This is especially true for their conductor — Welser-Möst's interpretation of Beethoven was exemplary in its clarity while avoiding extremes, even in the tempos."—Badische Zeitung, August 2016