Blossom Music Center | Cuyahoga Falls, Ohio
Love orchestra? Love music? Love America? Want to celebrate this 4th of July – and have a night you won't forget? Blossom Music Center presents the Cleveland Orchestra with Brett Mitchell: a night to remember: An American Celebration at Blossom Music Center this July. The Cleveland Orchestra will be performing on Sunday July 4th 2021. This night promises to be a spectacular night of wonderous music, vibrant sounds, extraordinary firework displays! Bring your friends, bring your family and experience the magic of live music in person again! The Orchestra is made up of 100-plus members and it's performances are highly respected and popular! Book your place now and celebrate this Independence in style!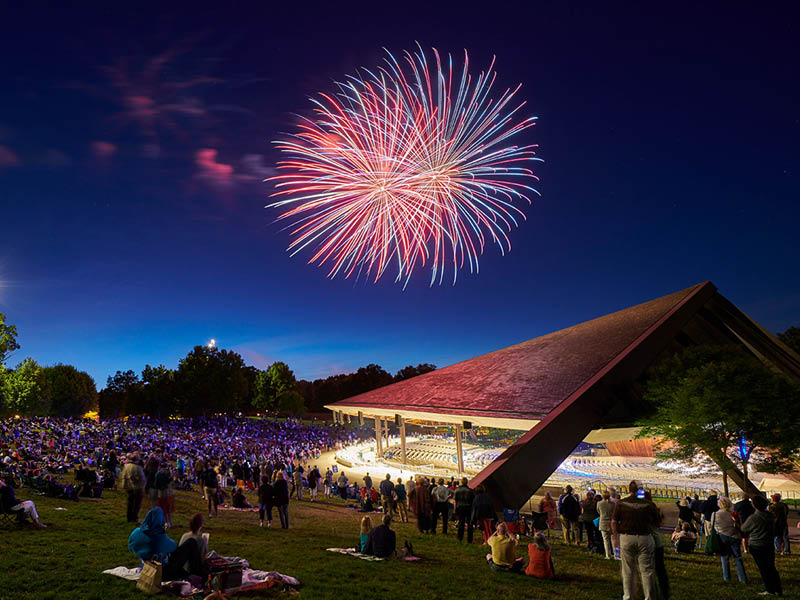 The Cleveland Orchestra with Brett Mitchell presents Copland's iconic Appalachian Spring, Tchaikovsky's 1812 Overture, with real cannons! Michelle Cann will be performing on the piano. A march by Sousa, and more.
The Cleveland Orchestra with Brett Mitchell presents, An American Celebration will feature;
• Bernstein; Overture to Candide
• Watkins; Soul of Remembrance
• Price; Concerto in One Movement
• Hailstork; An American Fanfare
• Copland; Suite from Appalachian Spring
• Tchaikovsky; 1812 Overture, with cannons!
• Sousa; The Stars and Stripes Forever
The Cleveland Orchestra consists of over one hundred member musicians. This July it will be coming home to the Blossom Music Center. Cleveland Orchestra has a global fanbase, and is respected across the world – they regularly tour internationally as well as across the United States of America, and at various residencies in Miami and Vienna.
Brett Mitchell, conductor, composer, educator and pianist, is now the Music Director of the Colorado Symphony. Brett Mitchell is renowned for staging pleasing, detailed explorations of carefully and thoughtfully curated programs. Mitchell's guest engagements include the Detroit, National, Oregon, Dallas, Indianapolis, Houston, Milwaukee, San Antonio, San Francisco, and Vancouver symphonies; the Los Angeles Philharmonic at the Hollywood Bowl; the Minnesota Orchestra; the Rochester Philharmonic Orchestra; the Saint Paul Chamber Orchestra; the Grant Park Festival Orchestra; and a two-week tour with the New Zealand Symphony Orchestra.
Cleveland Orchestra has been called one of the best orchestras performing today and is widely recognised for its high standards, musical excellence and its stunning performances. Cleveland Orchestra has a longstanding and ongoing collaboration with Welser-Möst – which is commonly agreed to be one of the very best conductor-orchestral pairings. Concerts of their usual repertory and their fresh performances are unequalled.