Blossom Music Center | Cuyahoga Falls, Ohio
Enjoy puzzles? What about listening to a puzzling sound euphoria presented by The Cleveland Orchestra under the baton of Bramwell Tovey in performing Elgar's Enigma? Come catch this once in a lifetime performance this July 27th at 8 PM at the Blossom Music Center.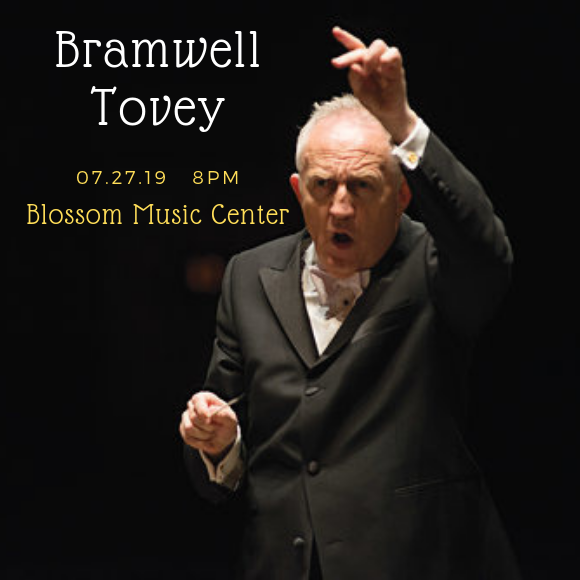 The Cleveland Orchestra and Kent Blossom Chamber Orchestra under the magical conduct of Bramwell Tovey, one can expect to hear Elgar's Enigma Variations at its most intimate.
Maestro Bramwell Tovey is British composer and conductor who is known to give his all when on stage. Some of his achievements include Artistic Director of the National Youth Brass Band of Great Britain, music director of the Luxembourg Philharmonic Orchestra (2002-2006), and principal guest conductor of the Los Angeles Philharmonic's Hollywood Bowl summer concerts 2008.
Additionally, Tovey has been the recipient of four honorary doctorates – Winnipeg (1994), Manitoba (1999), Kwantlen University College (2004) and the University of British Columbia. He is an honorary Fellow of the Royal Conservatory of Music in Toronto (2006) and a Fellow of the Royal Academy of Music in London, England (2006). In September 2017, Tovey took up the post of Director of Orchestral Activities at the Boston University School of Music.
Elgar's Enigma came to Elgar after a long day's of teaching in October 1898. A striking melodic and harmonic creation, Elgar used the theme to improvise fourteen variations, all character studies of friends and family members – some known to us and some not.
In effect to listening to Elgar's Enigma, it is said that listeners are viewing musical portraits of people they don't know about but who nevertheless inhabit the musical world created by Elgar.
His ninth variation, called "Nimrod," has received recognition from all over the world as one of the most beautiful and striking parts of sound – dramatic, eloquent, and solemn. It has been widely adapted for films such as Dunkirk and Elizabeth.
Program of the night:
At a Glance
Beginning at 7 p.m.
Kent Blossom Chamber Orchestra conducted by Vinay Parameswaran
MENDELSSOHN – Overture: The Hebrides
RAVEL – Suite from Mother Goose
I N T E R M I S S I O N
Beginning at 8 p.m.
The Cleveland Orchestra conducted by Bramwell Tovey with Gautier Capuço (cello)
BRITTEN – Four Sea Interludes from Peter Grimes
SAINT-SAËNS – Cello Concerto No.1
I N T E R M I S S I O N
Beginning at about 9 p.m.
The Cleveland Orchestra performing side-by-side with the Kent Blossom Chamber Orchestra conducted by Bramwell Tovey
ELGAR – Enigma Variations
Grab your tickets now as this is one orchestra concert that you would regret missing out on. Come see and listen for yourself what The Cleveland Orchestra and Bramwell Tovey have to offer this July 27th!