Blossom Music Center | Cuyahoga Falls, Ohio
Singing 'you're still the one I run to, the one that I belong to, she's definitely 'still the one as the reigning queen of country pop, Shania Twain is making a big comeback with her upcoming sixth studio album "Queen of Me" hitting the airwaves this February. Along with a brand new record, the queen's blessing her fans with a matching headlining tour in support of her milestone. The Queen of Me tour is coming to Blossom Music Center on Friday, 30th of June 2023. Sharing a new single "Last Day of Summer", Shania's setting the vibe to kick off 2023 like it's the last day of summer at the queen's new tour. Get ready for an enchanted show by the queen herself, Shania Twain, by booking your tickets now!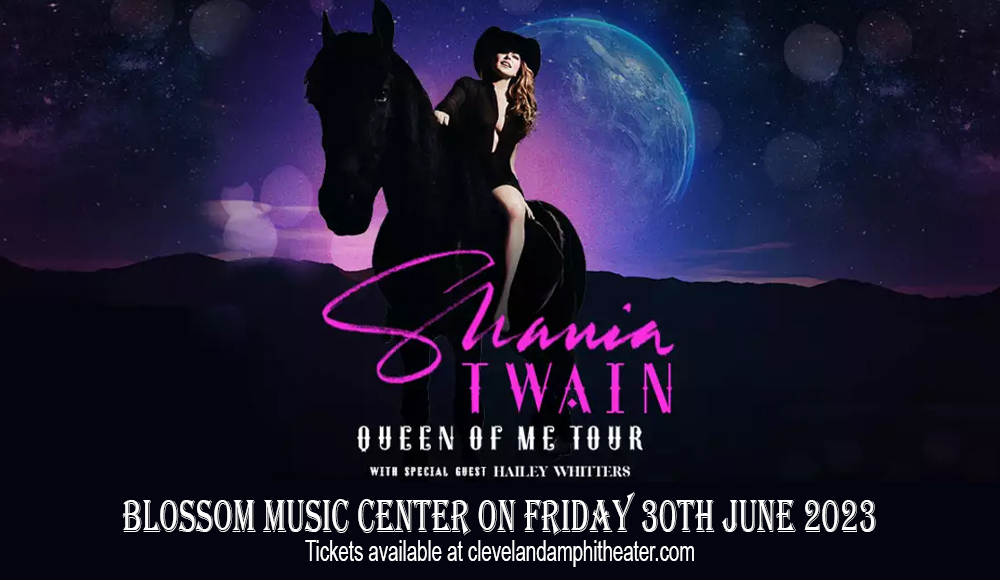 Hailed as the 'Queen of Country Pop' for her distinct style and blockbuster hit songs, Shania Twain's influence is one for the books, selling over a hundred million records, and becoming the best-selling female country music artist to exist. With five studio albums (and one hitting the airwaves real soon), three compilation albums, two live albums, forty-four singles, and thirty-eight music videos, Twain has risen and conquered the country-pop landscape flawlessly, selling out records across the globe. As a follow-up to her 2017 comeback record "Now", the queen is back with an empowering, unapologetic, and colorful new record "Queen of Me".
"These days, I'm feeling very comfortable in my own skin – and I think this album reflects that musically," Shania shared. "Life is short and I want to be uplifted, colorful, unapologetic and empowered. I want to carry a clear message, particularly as a woman, to always remember my power and I hope the songs are a reminder to you, of that same power inside you!"
Described as her "most triumphant-feeling body of work", the album features her new single "Las Day of Summer" and her previously released tracks "Not Just a Girl" and "Waking Up Dreaming" from her Netflix documentary "Shania Twain: Not Just a Girl". It's said to be an album "about standing in your own power and worshipping yourself".
Known for her blockbuster hits across her beautiful discography since 1993 including "From This Moment On", "That Don't Impress Me Much", "Forever and for Always", "Man! I Feel Like a Woman!", and "You're Still the One", Shania Twain's lyrical and vocal majesty continues to live on as one of country music's greatest. With 'Queen of Me' set to conquer airwaves and live stages at the onset of the new year, Twain is stoked to perform her biggest hits, fan favorites, and new songs at The Queen of Me Tour.
"I want to celebrate this new chapter with you all on my tour! Vegas has been a dream, but I'm ready to be on the road and sing with you, dance with you and have a kick ass night out with you! This one's gonna be a big party – no inhibitions, no conditions, let's get a little out of line!!" Shania shared.
Ready to meet her beautiful queens who share her success and influence throughout beautiful years of blessing everyone's CDs, iPods, speakers, Spotify playlists, and whatever music-playing devices, Shania Twain's legacy continues to live on. "I'll be Queen Of Me – you be Queen of YOU!" the singer said.
"Queen of Me" hits the shelves on February 3rd, and is available for pre-order now.
The Queen of Me Tour goes on general sale this Friday, November 4th. Make sure to mark your calendars and book those tickets right away!