Blossom Music Center | Cuyahoga Falls, Ohio
If you love Rascal Flatts, you're in luck; country's favourite trio are headed to the Blossom Music Center on Friday 20th September 2019, on their Summer Playlist tour supporting their latest album "Back To Us"!! Tickets are on sale NOW – grab yours while you have the chance!!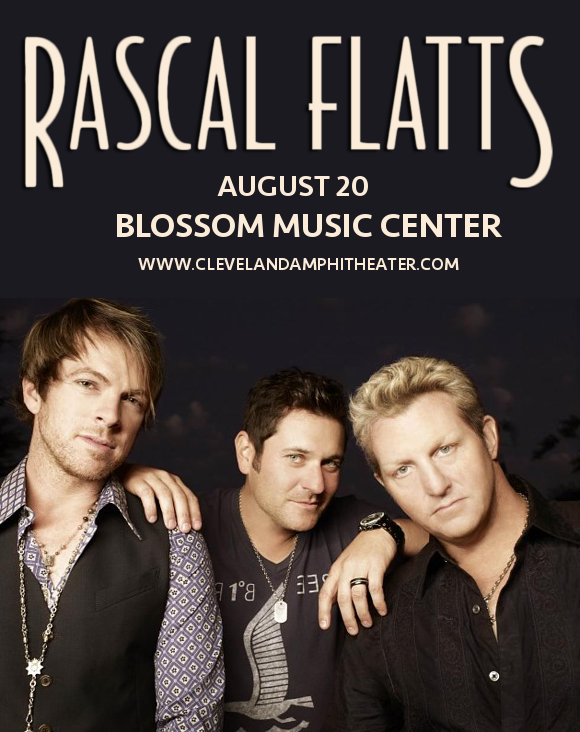 Making waves on the country scene with their debut, self-titled album in 2000, Rascal Flatts, a 3-piece outfit comprised of band members Gary LeVox, Jay DeMarcus, and Joe Don Rooney have quickly become one of country music's best-loved groups. Throughout the years they've had a steady musical output; a succession of hugely successful albums and singles, with no less than 14 of the latter charting at the number one spot on the Hot Country Songs or Country Airplay charts!! With all this behind them, Rascal Flatts are now on tour with their seventh album; "Back To Us".
"I think we got back the passion we had on the first one," mused Gary LeVox, comparing the latest album to their first, the amazing energy of which was what attracted them so much attention when they first appeared on the country scene. "Just really focusing on harmonies like they were on the first album – kind of in your face. The vocal part of what we do is really what put us on the map in the first place."
Are you ready to experience this return to Rascal Flatt's signature sound live for yourself?? Don't delay – get your tickets now, because they're expected to go fast!!