Blossom Music Center | Cuyahoga Falls, OH
He knows you want him, and there ain't anything stopping him from getting it down at the Can't Stop Us Now tour, hitting the stage at Blossom Music Center on Wednesday, 24th of August 2022. As people all over the world screamed 'timber! The man himself, Pitbull raps "Look up in the sky, it's a bird, it's a plane, nah, it's just me, ain't a damn thing changed". Ain't a damn thing really changed as Pitbull is set to drop his much-awaited 12th studio record "Timeless" – where he says "It's about making Timeless music". The party is definitely back to the stage at the Can't Stop Us Now tour happening at Blossom Music Center. Make sure you book your tickets now!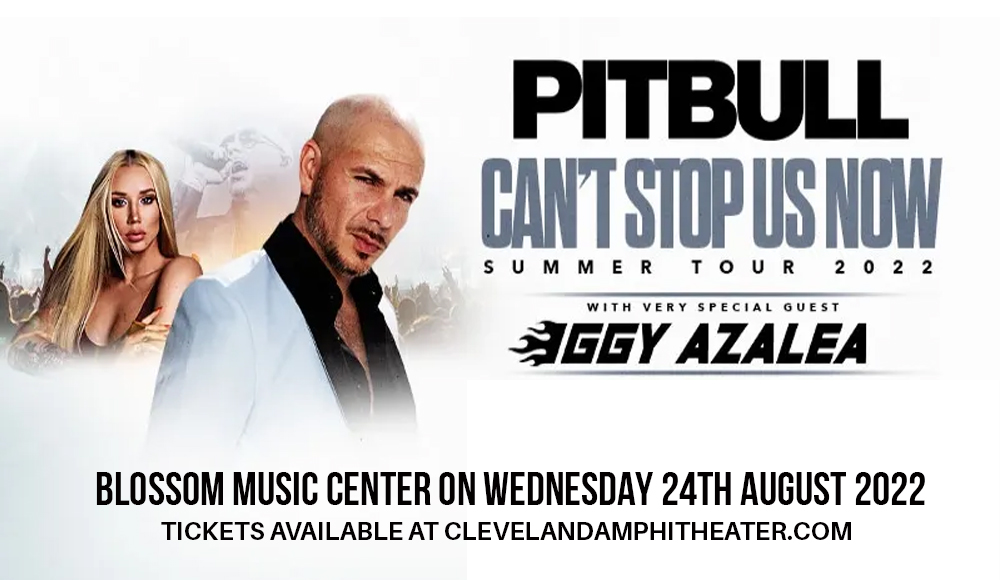 Taking the stage name "Pitbull" which Armando Christian Pérez says are dogs that "bite to lock… too stupid to lose. And they're outlawed in Dade County. They're basically everything that I am. It's been a constant fight". Since biting into the music scene in 2001, Pitbull had never let loose, taking over the world by 2009 with "I Know You Want Me (Calle Ocho)", and amassing several hits throughout the next decade including "Give Me Everything", "International Love", "Timber", "Time of Our Lives", and "No Lo Trates".
Before bagging his title as 'Mr. Worldwide, Pitbull is also known as 'Mr. 305, the area code of his hometown, Miami.
"It's a melting pot. You know, it's a melting pot. You get a chance to grow up around so many different – you know, I've grown up in good neighborhoods, bad neighborhoods, worse neighborhoods. But growing up around so many cultures, it's always allowed me to think out of the box and try new sounds and try new things. You learn something new from every culture, just like I learn something new from every record." Pitbull told NPR.
Early into his career, Pitbull dropped a number of mixtapes and released his debut album "M.I.A.M.I." in 2004. In 2009, he found his breakthrough with his global smash hit "I Know You Want Me" hitting #2 on the Hot 100. He continued to break records with his succeeding hits featuring various artists including Ne-Yo, Chris Brown, Christina Aguilera, Kesha, Natti Natasha, Daddy Yankee, and many more.
With bars and verses rooted in his challenges and growth, Mr. 305 keeps the party going with timeless music that gets the crowd shaking, no matter what country he sets his foot in. His last tour trek took a spot in Billboard's Top Latin Tours of 2021, with over 400,000 thousand attendees across thirty-two cities.
With 2022 on the rise and a new album in the works, Pitbull isn't letting loose anytime soon. Catch Mr. Worldwide perform his biggest hits, party-inducing tracks, and big surprises at the Can't Stop Us Now tour. Book your tickets now!