Blossom Music Center | Cuyahoga Falls, Ohio
Known for their beloved folk covers throughout the 1960s, including hits like "Blowin' in the Wind," "If I Had a Hammer," "Cruel War," "Leaving on a Jet Plane," "Where Have All the Flowers Gone," "500 Miles," "Lemon Tree," "In the Early Morning Rain," "All My Trials," and "Puff (The Magic Dragon)," Peter, Paul and Mary were champions of the 1960s folk revival. This summer, two thirds of the notable trio, Peter Yarrow & Noel Paul Stookey, will be performing a set of these timeless songs, and many more, at Blossom Music Center on Sunday 7th July 2019!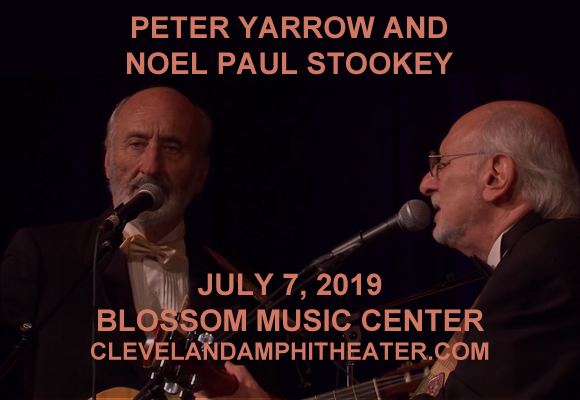 Peter Yarrow and Noel Paul Stookey came to fame in the 1960s as two thirds of the American folk group Peter, Paul and Mary, alongside Mary Travers. The trio were a significant part of the American folk music revival phenomenon and were known for their folk covers, including many of Bob Dylan's early songs. The band won five Grammy Awards throughout their career, and charted 13 Top 40 hits, including six Top Ten singles, as well as releasing eight gold and five platinum albums. In 1999, the group was inducted into the Vocal Group Hall of Fame, and in 2006 they were honored with the Sammy Cahn Lifetime Achievement Award from Songwriters Hall of Fame. Mary Travers passed away in 2009, and since then, Yarrow and Stookey have continued to perform as a duo under their individual names.