Blossom Music Center | Cuyahoga Falls, Ohio
The artist who released one of the greatest and most famous live albums of all time is back on the road and coming to a venue near you – live! In the vein of "Frampton Comes Alive", legendary rock star Peter Frampton is returning to the live stage where he validated his stance as an iconic rock musician. Though this tour, in particular, comes with a sad note that this will be his last, dubbed as the "Finale the Farewell Tour", Peter Frampton will take his final bow — live and kicking! Part of his extensive trek is happening here at the Blossom Music Center on Thursday 8th August 2019. The demand for tickets are on a high, so rise up to the occasion and grab tickets for you and the whole gang before it runs out. Hurry, it's now or never!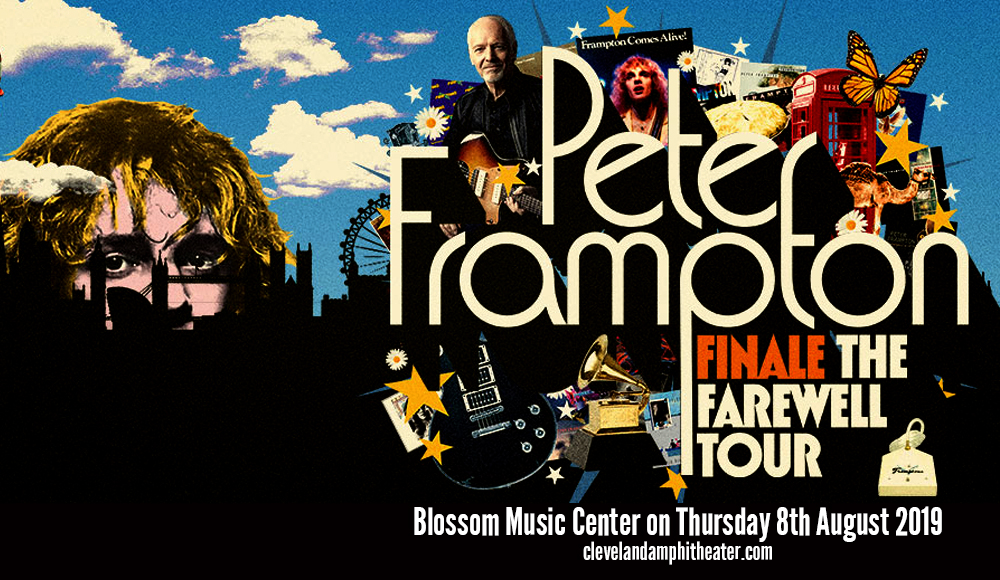 The enduring career of Peter Frampton is marked by milestones that helped define rock music as we hear it today, and his record-breaking live tour and album served as a blueprint for live acts an concerts. After being part of a number of bands like The Herd, The Small Faces and Humble Pie, Peter Frampton pursued a solo career in 1971, which was marked by the release of his solo debut album "Winds of Change" in 1972. His solid fanbase was built out of Frampton's extensive and expansive concert tours. By 1976, Frampton took the world by storm as he released "Frampton Comes Alive!" — a double album that showcased Peter's hidden gems of singles and b-sides. This album is earmarked by timeless classics such as "I'm In You," "Show Me the Way" "Do You Feel Like We Do" and "Baby, I Love Your Way." The album catapulted this relentless artist to superstardom. And as the legendary album celebrated its 43rd anniversary, it still one of the top-selling live albums of all time.
But all good things come to an end, so they say…Peter Frampton puts it this way:
"I'm a perfectionist and I do not want to go out there and feel like, 'Oh I can't, this isn't good.' That would be a nightmare for me. It's my passion, I've been playing guitar for 60 years. Started when I was eight and now I'm 68. So, I've had a very good run." …"The reason I'm calling it the 'farewell tour,' again, is because I know that I will be at the top of my game for this tour and I will make it through this and people won't be saying, 'Oh you know, he can't play as good.' I can. But we just don't know for how long."
Don't be content just playing back "Frampton Comes Alive" on your stereo. Experience it live, on its final run. Nothing could be more alive and kicking than this. Get your tickets now!