Blossom Music Center | Cuyahoga Falls, Ohio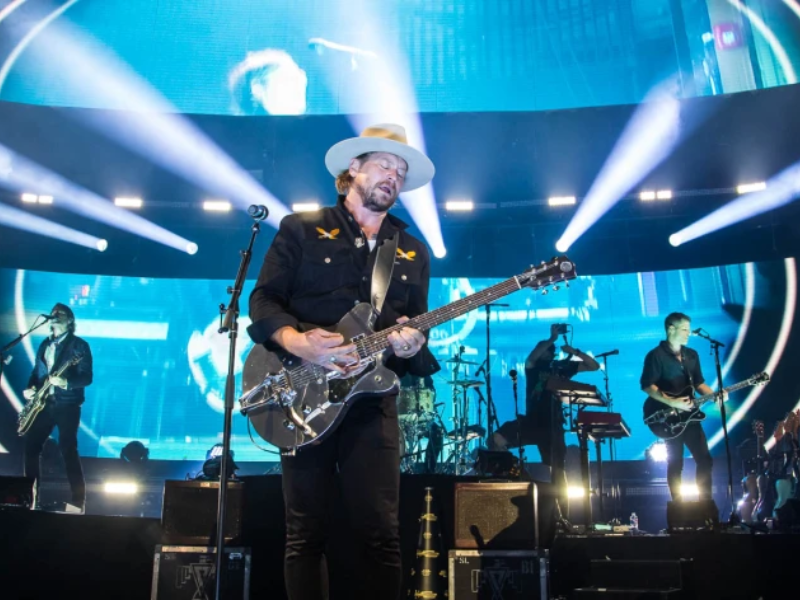 On Saturday, June 1st, NEEDTOBREATHE will pierce the skies above the Blossom Music Center with their final CAVES Tour concert, featuring special guests Judah & The Lion. The extended tour will promote the band's ninth studio album, following its previous fall leg with 26 extra dates nationwide. Its stop here in Ohio will take place at the Blossom Music Center—a gorgeous outdoor venue that marries the splendor of nature with an electric concert atmosphere. Brace yourself hard because this GRAMMY-nominated band will rock your soul to the core! NEEDTOBREATHE has been performing in SOLD-OUT venues worldwide, flooding music halls with rousing anthems like "Hard Love" and "Washed by the Water." For this performance, expect to hear some of their latest tracks, including the heart-wrenching hit "Everknown." Our headlining group has amassed over two decades worth of accolades, which include FIVE no. 1 spots in the Christian Album charts and FIFTEEN GMA Dove Awards. Hit the blue-button above to claim your tickets for NEEDTOBREATHE'S LIVE show!
After a long but exhilarating journey, NEEDTOBREATHE will devastate the Blossom Music Center for their tour's FINAL performance! The CAVES World Tour—supporting the titular ninth studio album—launched in Savannah, GA, for its fall season coverage. Resuming this last week of April, the North American trip adds twenty-six additional stops to its itinerary, leading to a thunderous conclusion on the first day of June.
The CAVES album debuted on September 15, 2023, as the band's most AMBITIOUS endeavor yet. A collection of powerful, life-affirming rock ballads, it showcases several collaborative tracks featuring some of the scene's hottest acts: singer-songwriters Foy Vance and Carly Pearce, country music group Old Dominion, and the tour's special guests Judah & The Lion.
CAVES complete track listing
The Cave
Everknown
How Wonderful We Are
Dreams
When You Forgive Someone
Wasting Time
Fall On Me
Hideaway
By and By
Reaching Out To Find You
Temporary Tears
A divine union of power and poetry, NEEDTOBREATHE's music is a shining beacon in the Christian rock music landscape. The band first ascended to the spotlight with their 2006 debut album, Daylight. Three years later, their third album, The Outsider, landed them their first top 20 spot in the Billboard 200, snowballing the group into chart-topping territories. Since then, NEEDTOBREATHE has claimed FIVE no. 1 spots in the Christian Albums chart, in addition to multiple platinum certifications. They were also honored with FIFTEEN GMA Dove Awards, including a recent Rock/Contemporary Album and Recorded Song of the Year.
Bear Rinehart- lead vocals, guitar, piano
Seth Bolt - backing vocals, bass
Josh Lovelace - backing vocals, keys
Randall Harris - drums, percussion
Tyler Burkum - guitar
In an interview with Music Mayhem, frontman Bear Rineheart shares the secret about the band's longevity: "I think for a long time it was like, well, we've got to get on the same page. Everybody's got to believe the same things, like the same kind of music, dress the same way, all that stuff. And that doesn't make any sense. Everybody brings something totally different to the table. Everybody's opinion is worth it, and everybody's opinion leads to another one."
For our opening act, we have Judah & The Lion, the eclectic folk duo featuring Judah Akers and Brian Macdonald. Best known for their Billboard Alternative Airplay no. 1 hit "Take It All Back," the pair was nominated three times at the 2018 iHeart Music Awards, winning Best New Rock/Alternative Rock Artist.
Centered in the sprawling vistas of Cuyahoga Falls, Ohio, the Blossom Music Center will host NEEDTOBREATHE's closing concert on Saturday, June 1. Picture it: a reverberating rock show under the infinite sky and between nature's embrace, thousands of fans in complete musical catharsis. You can hardly experience anything better than that, so book your tickets now before they sell out!