Blossom Music Center | Cuyahoga Falls, OH
This 2022, legendary hip-hop artists Nas and the Wu-Tang Clan, are joining forces and embarking on a massive North American Tour! Titled the N.Y. State of Mind Tour, the 25-date outing, will stop by at the Blossom Music Center in Cuyahoga Falls, Ohio, on Wednesday 7th September 2022. Concert goers can anticipate specially curated setlists composed of massive hits and fan favorites from Nas and the Wu-Tang Clan. Moreover, Nas is set to perform new tracks from his highly-acclaimed latest album titled Magic. If hip-hop music is your jam, you better come and check out Nas and Wu-Tang Clan at the Blossom Music Center!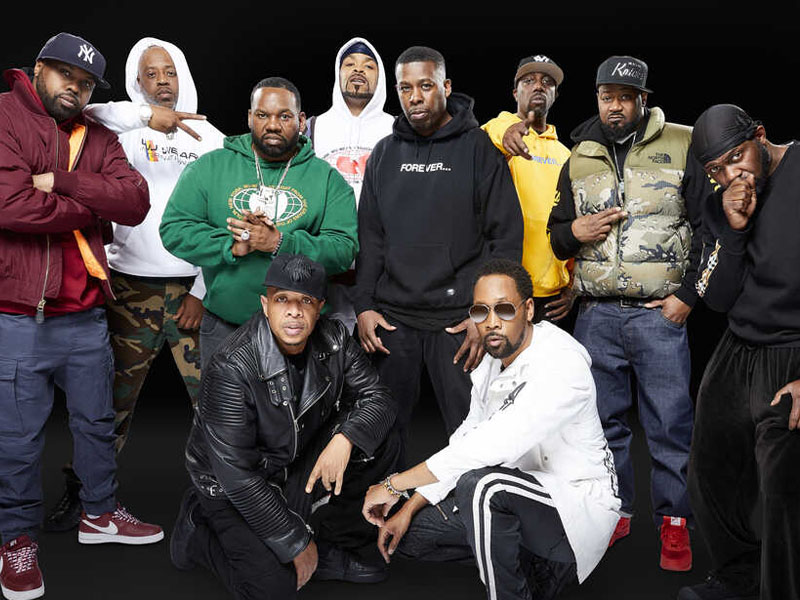 Both the Wu-Tang Clan and Nas had been credited for reviving the East Coast rap sense in the early '90s. East Coast hip-hop utlizes complex lyrics and multi-syllable rhymes, which resonated well with many listeners. Wu-Tang Clan was one of the first artists to apply this musical style. They released their monumental debut album, Enter The Wu-Tang (36 Chambers) in 1993. The album has been hailed as one of the most influential and greatest records of all time. Enter the Wu-Tang had a raw, underground appeal, but still it entered the mainstream charts, peaking at number 41 on the US Billboard Countdown. In 1997, the Wu-Tang Clan released a follow-up album, Wu-Tang Forever, which debuted at number 1 on the Billboard 200 chart. The record earned multiple platinum certifications and a nomination for Best Rap Album at the 40th Annual Grammy Awards. Composed of Ghostface Killah, Method Man, RZA, GZA, Masta Killa, Inspectah Deck, U-God, Raekwon, and Cappadonna, the Wu-Tang Clan paved the way for other New York rappers, including Nas, Notorium B.I.G. Jay Z, and Mobb Deep.
Another East Coast artist, Nas, co-headlines the much-awaited event with the Wu-Tang Clan. The Grammy Award-winning rapper is credited for creating one of the most influential hip-hop records of all time. His debut album, Illmatic spawned massive hits, such as "The World Is Yours," "It Ain't Hard To Tell," and "One Love." Revered as the archetypal East Coast hip-hop record, Illmatic debuted at number 12 on the Billboard 200 Countdown and number 2 on the Top R&B/Hip-Hop Albums.
Tickets to see Nas and the Wu-Tang Clan at the Blossom Music Center are now available! If your music taste leans more on the East Coast hip-hop style, you better come check out these legends perform on stage!