Blossom Music Center | Cuyahoga Falls, Ohio

Hip-hop heads, are you ready to see two living LEGENDS in concert?? That's right, in one massive talent-stuffed tour, led by Meek Mill and Future, you have the opportunity to experience performances not just by the headliners but by YG, Mustard and Megan Thee Stallion! This too-good-to-be-true tour hits the Blossom Music Center on Wednesday 4th September 2019 – be there!! Tickets on sale now and selling FAST!!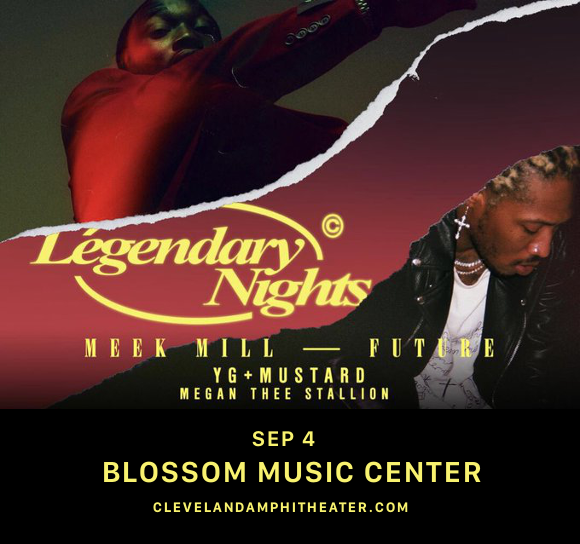 Each of these acts is touring in support of newly released or fresh albums just around the corner. Future has just released the critically acclaimed album "The Wizrd" while Meek Mill dropped "Championships," last year, also to huge critical acclaim. It's unsurprising that the album struck a chord with so many – it followed the rapper's release from prison, and heralded his progression into political activism surrounding the justice system.
"On Championships, his fourth studio album, Meek Mill raps with the same hunger, passion and drive that he came into the game with – which earned him veteran status at MMG as Rick Ross's right hand lieutenant – but now with a renewed sense of purpose and direction," were Clash's highly favourable words on the record. The response was echoed by fans, with "Championships," having sold over a million copies in the United States to date, earning Platinum certification from the RIAA.
You've heard the songs – now get ready to experience them live. What are you waiting for?? Those tickets won't last – grab yours now while you have the chance!!