Blossom Music Center | Cuyahoga Falls, Ohio
There are so many bands in metal nowadays that have been influenced by the likes of Korn and Faith No More… The two groups both changed the landscape of metal by combining grunge, hip hop, and funk in ways no-one had before, and have both left an indelible musical legacy that has inspired many! Now, the two goliath bands have come together for the coolest co-headlining tour of the summer, which will be pulling up at Blossom Music Center on Sunday 13th September 2020! They'll be joined by riotous alt-metal act Helmet and noise-punk duo '68 in support!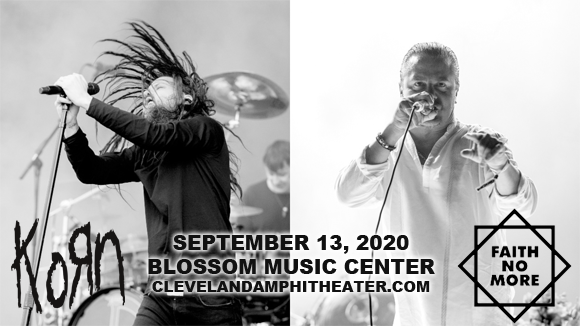 Having formed in 1989, American alternative metal band Faith No More had its breakthrough a decade later with the Grammy Award-nominated, top 10 album The Real Thing. In its infancy, the band had several personnel shake-ups and even had Courtney Love fronting the group for a time, but it was when Mr. Bungle vocalist Mike Patton joined the band that its sound began to coalesce. Faith No More released three more albums before breaking up in 1998, but in 2009, the group reunited to go on tour and has been performing sporadically ever since. The band also released a new album in 2015 – Sol Invictus.
Korn was formed in 1993 and became a household name in 1998 with the album Follow The Leader, which topped the Billboard 200. Issues (1999), its follow-up, did the same and all of Korn's first seven albums have been certified platinum or higher. To date, the group has charted 12 top 10 albums on the Billboard 200, including eight that have reached the top five. The band has also taken home two Grammy Awards (from eight nominations) and two MTV Awards (from 11 nominations).