Blossom Music Center | Cuyahoga Falls, Ohio

Heads up, metal lovers!! This year marks Korn's first co-headlining tour with Alice In Chains! With differing styles, the bands are linked by their innovative approach and the fresh new sounds that they bring to the heavy metal genre. They're headed to the Blossom Music Center on Friday 16th August 2019! If you like your metal a little different then this is the tour for you – get your tickets now!!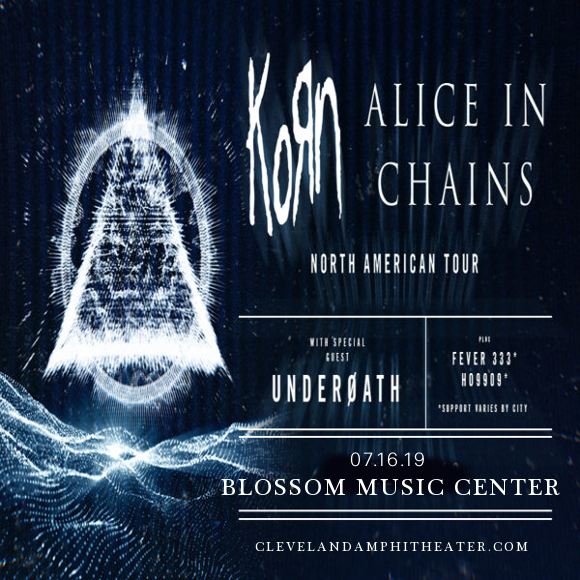 Since they first arrived on the heavy metal scene in 1993, Korn have been shaking up the genre with their heavily dropped riffs, funk influences, and the unique rasping vocal style of their singer Jonathan Davis. Their style has been so influential that they are largely credited with having invented the nu-metal genre. Most recently, Korn have confirmed that they are currently working on the follow-up album to their 2016 scorcher "The Serenity Of Suffering".
As for Alice In Chains, they take a different approach – bringing the worlds of grunge and heavy metal together to make an all new sound, again featuring very unique vocals, this time relying on the harmonies between Jerry Cantrell and William DuVall, who share vocal duties almost 50/50, giving the band's sound an extremely distinct character. The band are now touring with their most recent album, the critically acclaimed "Rainier Fog".
If you love innovation and experimentation in your heavy metal then look no further than this once-in-a-lifetime show featuring two of the genre's finest – it's a concert you absolutely can't afford to miss!!