Blossom Music Center | Cuyahoga Falls, Ohio
Are you ready for country's greatest superstar?? That's right, after a quiet 2017 Kenny Chesney is hitting the road again, and he's taking Old Dominion with him for the ride!! They;re on their way to the Blossom Music Center on Wednesday 6th June 2018 to give fans the night of their life! Grab your tickets NOW for an incredible, unforgettable live country show!!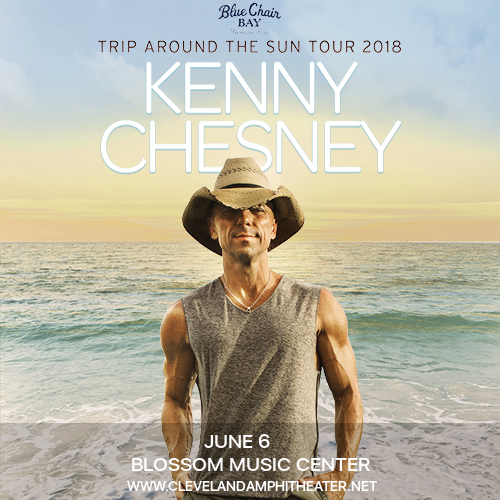 Undeniably one of the greatest names in country, Kenny Chesney has captured hearts around the world and sold out stadiums for the last two decades!! His new tour follows the release of his latest album, "Live From No Shoes Nation". Featuring a range of smash hits, hidden gems and special collaborations including one with Taylor Swift, "Live From No Shoes Nation," is a living record of the best of Kenny Chesney's live shows, featuring a whopping 30 song tracklist!!
"I've always said the energy that comes at us, it lifts us up – and really makes us take things even further. Listening, I realized we can't take that intensity all the way in in the moment," Kenny Chesney explained, talking about the inspiration behind recording and releasing the live album. "I wondered if everyone who's come out to one of our shows realizes how incredible they sound; if like us, they're so in the moment, they had no idea. They're what makes this music special – and this, to me, was a great way to let them know it."
Are you ready for this epic show?? Get your tickets TODAY!!!