Blossom Music Center | Cuyahoga Falls, Ohio
Ready up, get the dust off your country boots and we're all goin' for a ride down the countryside… Country superstar Jason Aldean is "Back in the Saddle" with an amazing tour de force headed towards the Blossom Music Center on Friday 15th October 2021. Along with his country music cohorts. Hardy & Lainey Wilson, Jason Aldean shares this overwhelming excitement to be back on the road and perform his chart-topping hits like "Dirt Road Anthem," "She's Country," "When She Says Baby," "Big Green Tractor," "Burnin' It Down" and "Night Train," and many more. His evergreen fans have been keeping an eagle eye out for tickets and will strike to grab 'em without hesitation. Now that your eyes are on that 'get tickets' sign, press it quickly to score those tickets while you can. Book your tickets now!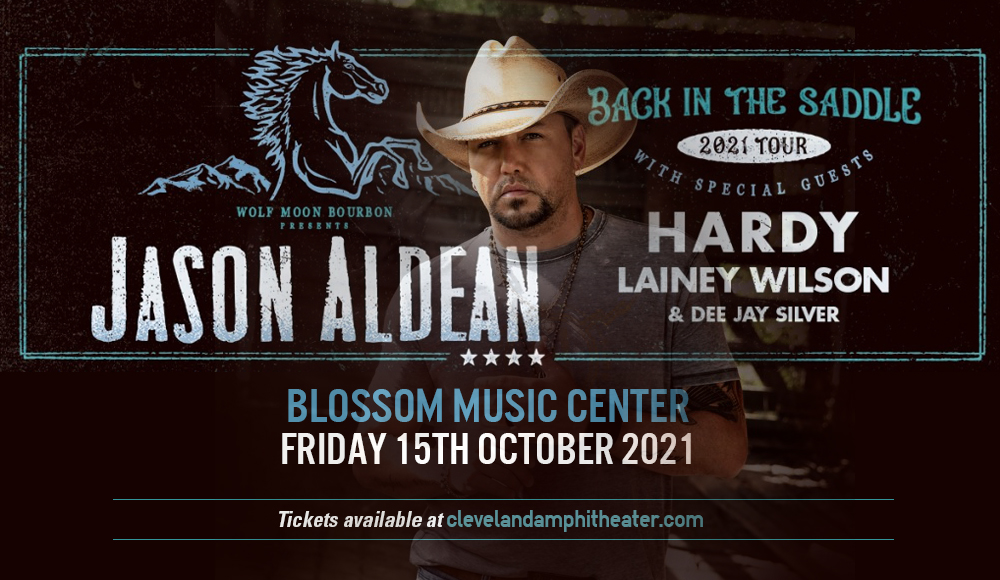 Academy of Country Music "Entertainer of the Year" awardee, Jason Aldean truly deserves such recognition. Aldean has won the said award not once, not twice, but three times – three years in a row. For over fifteen years, Aldean has filled concert halls and stadiums with adoring fans and has had a trail of the most loyal followers across generations.
22 of his 35 singles have reached number one on either the Hot Country Songs or Country Airplay charts. Aside from chart successes, Jason Alden also proved that his music is of commendable distinction, having been nominated four times by the Grammys, with two nominations for Best Country Album. He also bagged the Best Country Duo/Group Performance in 2012 for "Don't You Wanna Stay" with Kelly Clarkson. In addition, My Kinda Party won Album of the Year in 2011 at the Country Music Association Awards.
Although his passion for bringing and performing his music before a live audience has been put to a halt by the recent Covid-19 pandemic, Jason expressed his gratitude and excitement to be "Back in the Saddle" this year.
"It's been emotional being back onstage with my band for the first time in a year this weekend," Aldean says in a press release. "It's made us all even more ready to get back to life as we all know it. Being on the road makes all of us — the band, the crew and me — happy, and I haven't felt this excited about going on tour in 15 years."
Excitement immediately triggers action. Now click to 'get tickets', right here, right now!