Blossom Music Center | Cuyahoga Falls, Ohio
As the sun comes rising towards a bright new year, the Goo Goo Dolls and O.A.R. are teaming up to launch big nights at an extensive co-headlining tour next summer! The 'Big Night Out' tour with revolutionary rockers O.A.R. will take place in over 30 venues across the country, including this special stop at Blossom Music Center on Sunday, 20th of August 2023. The "Iris" alt-rockers promise amazing nights of legendary rock hits, fan favorites, and new surprises live on stage. Don't miss out on the Big Night Out Tour 2023 by booking your tickets now!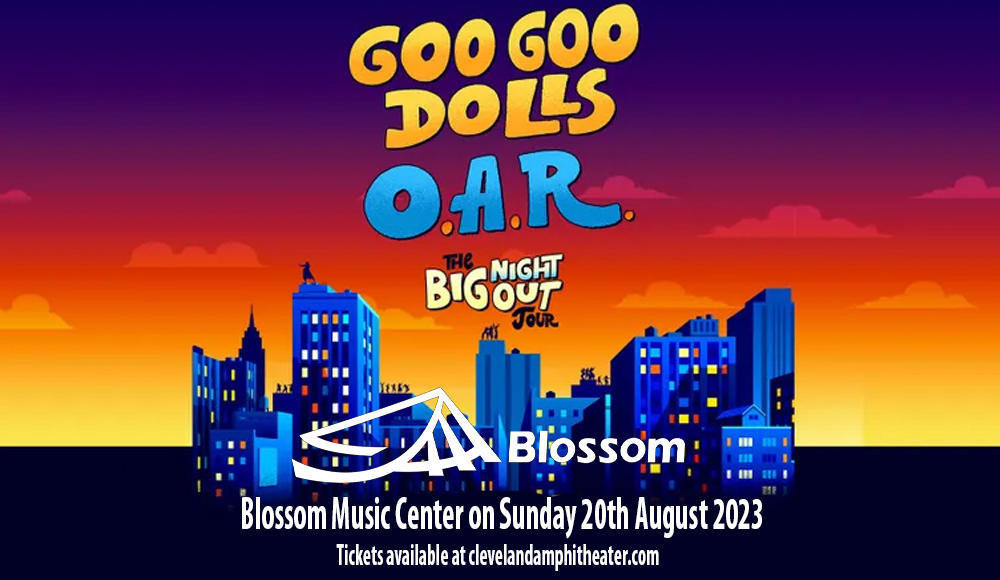 The grind never stops for legendary alt-rockers, Goo Goo Dolls, who took the world by storm, singing along to their 1998 hit single "Iris". As catchy and striking as the melody and lyrics of "When everything's made to be broken… I just want you to know who I am," to "Iris", the band continues to keep their passion alive, releasing their newest album "Chaos in Bloom" in August of 2022, featuring its lead single "Yeah, I Like You".
Fresh from wrapping up a North American tour in support of their new record, the Goo Goo Dolls are coming back for amazing nights of live rock music together with the American rock band O.A.R.
"I'm so proud to finally be able to announce our summer tour with a great band and our friends O.A.R.," Goo Goo Dolls frontman John Rzeznik shared in a press release. "It's going to be an amazing night of great music for everyone so be there!!!"
The Goo Goo Dolls rose to the mainstream charts for their 1995 breakthrough single "Name" which hit #5 on the Hot 100 and #1 on Alternative Airplay, bagging a 2x Platinum certification from the RIAA. Three years later, the band saw itself taking flight to the global stage through their biggest hit, "Iris". The single is awarded 7x Platinum by the RIAA, 2x Platinum in Australia, and 4x Platinum in the UK. The global favorite anthem ranked at #1 on Billboard's list of Top 100 Pop Songs 1992-2012. The song also took the 39th spot on Rolling Stone's list of the 100 greatest pop songs.
As the band keeps the fire alive, they're hopping on a big co-headlining tour with another legendary American rock favorite, O.A.R.
"After working on separate albums in the same studio all last year, John and I realized pretty quickly how much fun we'd have on tour together," O.A.R.'s Marc Roberge shared. "We're all band guys, love being musicians, and started planning a special night that all our fans would enjoy."
Rising high in the rock scene through their highly successful fifth studio record "Stories of a Stranger" featuring its singles "Love and Memories", "Heard the World", and "Lay Down"., O.A.R. continues to keep their passion running through highly immersive tours and new material. The band recently released their tenth album "The Arcade" in July of 2022. The album includes their new singles "Alive" and "In the Clouds".
As the two bands keep the fire burning, they're gearing up to set big nights ablaze through the power of rock music at The Big Night Out Tour next summer! Book your tickets now!