Blossom Music Center | Cuyahoga Falls, Ohio
Are you ready to experience the sound of the most legendary rock band in the world?? The supergroup Foo Fighters is back with a massive 2018 slog across North America to promote their brand new album, "Concrete and Gold"!! Coming to the Blossom Music Center on Wednesday 25th July 2018 — for what promises to be truly a night of solid gold entertainment! Tickets are on sale and disappearing fast – snap yours up while you can!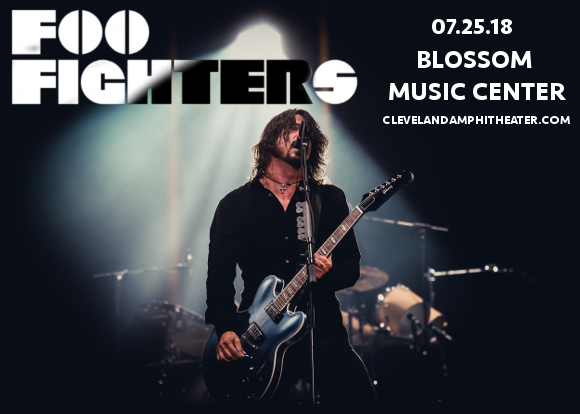 "Concrete and Gold," is the 9th album in the Foo Fighters' highly successful career of 20+ years, the highly anticipated follow-up to 2014's "Sonic Highways". In addition to highly political themes, with the recent presidential election having a huge influence on the album, the record is unusual in that features a number of huge guest stars, including Paul McCartney, Shawn Stockman, and Justin Timberlake!
The album is produced by Greg Kurstin, adding to its unique sound. More known for his work with acts such as P!nk and Adele, it was the qualities of his own band, The Bird & The Bee, in particular the song song "Again and Again" that really caught the attention of frontman Dave Grohl. He describes the resulting record as; "the biggest sounding Foo Fighters record ever. To make a gigantic rock record but with Greg Kurstin's sense of melody and arrangement… Motorhead's version of Sgt. Pepper's… or something like that."
We can hardly wait to hear it all live – can you?? No? Then grab those tickets while they last!!