Blossom Music Center | Cuyahoga Falls, Ohio
Legendary New Wave rockers are heading back to the live stage on a tour that'll take fans to the future past of industry-defining New wave and dance-rock hits. The 2x Grammy Award-winning and Rock and Roll Hall of Fame-awarded band is kicking off its "Future Past" tour this May, with a special stop at Blossom Music Center on Sunday, 10th of September 2023. The tour will be joined by special guests Nile Rodgers & CHIC and Bastille. Don't miss out on 'the wild boys' live comeback by booking those tickets now!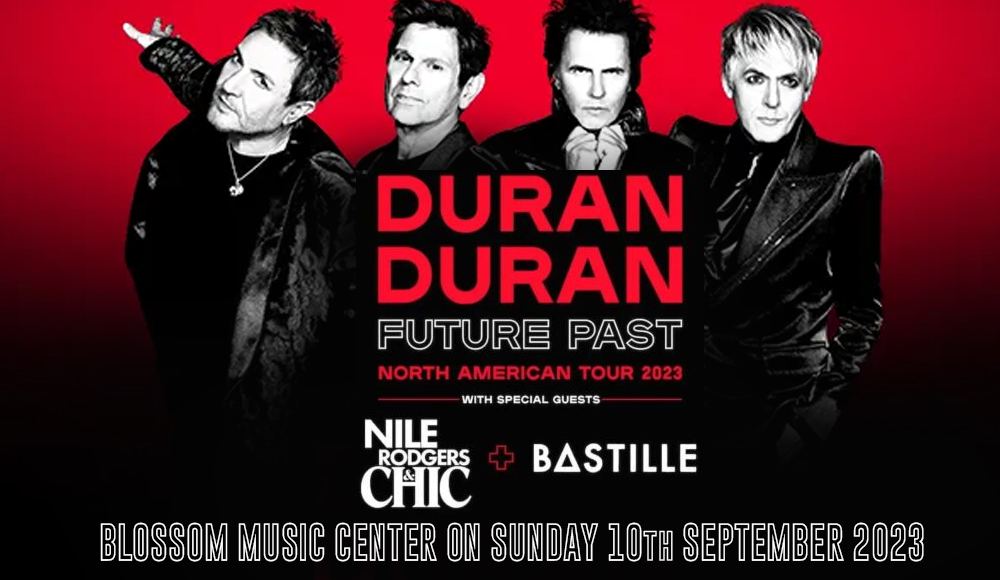 Celebrating a Rock and Roll Hall of Fame induction for the class of 2022, Duran Duran is celebrating this milestone with a legendary "Future Past" tour, taking their extensive catalog of industry-defining New wave and dance-rock hits back to the live stage. Sharing with BBC that 2022 was "the best year that Duran Duran has had, and maybe, sort of in its own way, was better than anything we did then", Duran Duran's milestones for the year also included performances at jubilee celebrations for the Queen and the Commonwealth Games.
As the band gears up for their live tour comeback, Simon LeBon shares that "It's remarkable to me that as a band, we are still hitting new milestones, and introducing the sound of DD to new generations of music lovers,"
"We are truly grateful that we get to do what we do on a daily basis, and that we still love our job as much as we did when we started out some four decades ago." he shared.
Formed in England back in 1978, Duran Duran skyrocketed to become a global sensation upon the release of their self-titled debut album and sophomore record "Rio". The records hit #3 and #2 respectively on the UK charts, hitting the Top 10 in the US Billboard 200. These albums produced some of their biggest hits including "Girls on Film", "Hungry Like the Wolf", "Save a Prayer", and "Rio".
From then on, the band set the New Wave landscape with a slew of successful multi-platinum albums such as "Seven and the Ragged Tiger", "Notorious", "Big Thing", and "Thank You". They continued to amass a loyal following for their synth-pop masterpieces that were home to local clubs and house parties, becoming MTV favorites for their fashion and unique visual appeal together with astounding artistry.
As the English global sensation takes the stage on a massive comeback tour, the Future Past Tour is taking their signature recipe of New Wave and synth-pop as blasts from the past to this new era. Make sure to save your spots at the show by booking those tickets now!