Blossom Music Center | Cuyahoga Falls, Ohio
It's a magical event for young and old alike as Steven Spielberg's touching classic E.T. The Extra-Terrestrial comes to the big screen at Blossom Music Center on Friday 1st September 2017! This beloved film will be accompanied with John Williams' incredible score, played live by the Cleveland Orchestra, conducted by Brett Mitchell!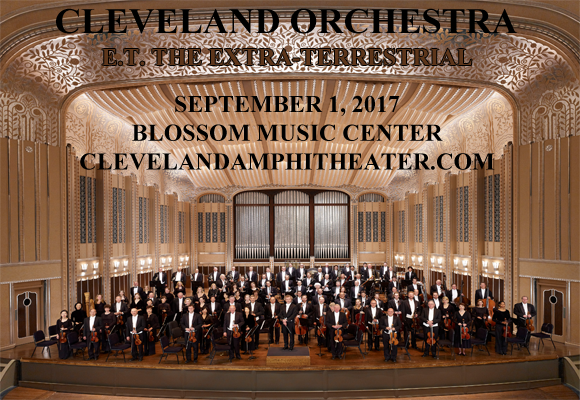 Soon celebrating its centenary, Cleveland Orchestra was founded in 1918 by the pianist and impresario Adella Prentiss Hughes, and as of 2017, the incumbent music director is Franz Welser-Möst. The orchestra one of the five orchestras informally referred to as "The Big Five" – the others being New York Philharmonic (1842), Boston Symphony Orchestra (1881), Chicago Symphony Orchestra (1891) and Philadelphia Orchestra (1900). Coined around the time of long-playing records becoming more readily available, the Big Five led the field in "musical excellence, calibre of musicianship, total contract weeks, weekly basic wages, recording guarantees, and paid vacations". That level of professionalism and virtuosity has continued to place Cleveland Orchestra at the top, with Gramophone Magazine ranking the Cleveland Orchestra number 7 on its list of 20 of the world's greatest orchestras in 2012.