Blossom Music Center | Cuyahoga Falls, Ohio
Heads up, Cleveland! Alt-rock group Breaking Benjamin are back on the road with a massive North American tour in support of their latest album "Ember"! They're on their way to perform the first of two spectacular shows at the Blossom Music Center on Tuesday 6th August 2019 – make sure you're there!! Tickets are on sale now and guaranteed to go fast. Do not delay in getting yours!!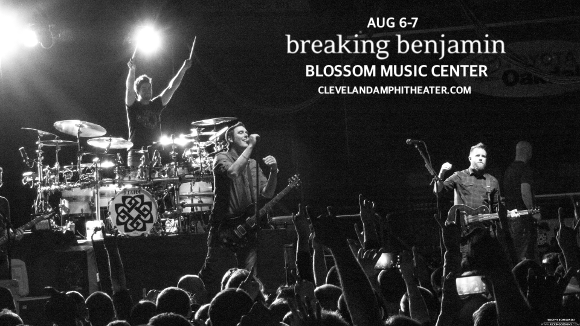 In nearly two decades since their formation, Breaking Benjamin have gone through several lineup changes and released six studio albums, their latest being "Ember." Praised by music critics across the board, the record is Breaking Benjamin's heaviest album to date, and the first to feature songwriting by band members other than the band's core songwriter, Benjamin Burnley. The first single from the new album, "Red Cold River," went straight to number one on the Billboard Mainstream Rock Chart.
"We released "Red Cold River" first because we feel that was one that was a good showcase for what the album is," Benjamin Burnley said, speaking warmly with regards to the input of his bandmates on the record. "Aaron, our bass player – he's also an incredible singer – he wrote the first line of that chorus, vocally and musically… it's awesome that it went to number one because as a friend of mine, I'm happy for him that he has that achievement now, his first number one. Our fans have been amazing and we're really grateful for what we have. I'm not saying it in a bad way but I've done that already, so it was amazing to have a friend of mine in the band have that as well."
Well, what are you waiting for?? Tickets won't last – get yours while you can!!