Blossom Music Center | Cuyahoga Falls, Ohio
Fans, get excited!! Some HUGE news has just dropped – this summer, Blink-182 and Lil Wayne are teaming up for a MASSIVE tour across the US!! With opener Neck Deep, they're headed to the Blossom Music Center for Tuesday 16th July 2019. Don't miss out – grab your tickets NOW before they disappear!!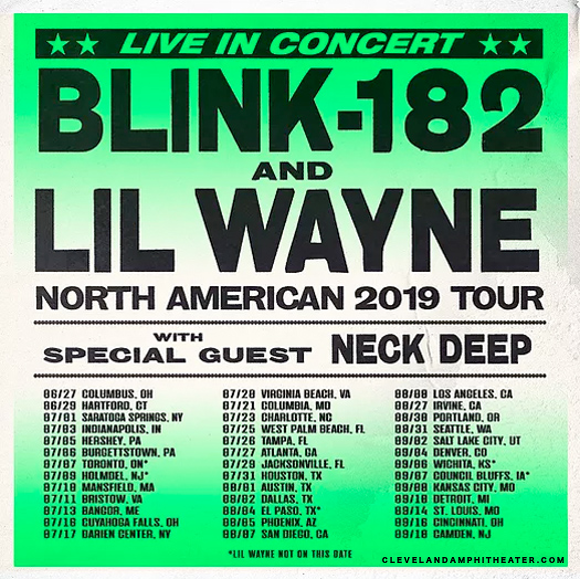 Blink-182 have confirmed that a new album is just around the corner, dropping the single "Blame It On My Youth," ahead of the release. This will be the pop-punk outfit's first new music since 2016's "California," as well as their first to feature new guitarist Matt Skiba, who replaced Tom DeLonge in 2015. As for Lil Wayne, fans are ecstatic to hear that he is in fact releasing a follow-up to "Tha Carter V," originally scheduled to be his final album.
"Just make sure they know that Funeral is coming soon," the rapper said in an interview. "That's my music. Get your roses ready. I don't have a release date, but I have a whole bunch of good news coming soon. If you're a Wayne fan, I know we've been going through a lot of tough times right now, but if you are a Wayne fan, we about to hold our heads high soon."
The meaning is clear; fans can expect to hear brand new music from both Blink-182 AND Lil Wayne live on July 16th!! It's gonna be epic – what are you waiting for?? Tickets are on sale now – grab 'em while they last!!