Blossom Music Center | Cuyahoga Falls, Ohio
They 'got your name tattooed in an arrow heart, and they're definitely down for a wild night, celebrating over a decade of pop-rock anthems at The 5 Seconds of Summer Show, kicking off this summer! The band is jet-set to serve astounding doses covering 5 eras of their hit records on the live stage. The special tour trek will be hitting the stage at Blossom Music Center on Friday, 25th of August 2023. As one of the world's hottest musicians behind teenage pop-rock hard-hitters "She Looks So Perfect", "Don't Stop", "Teeth", "Youngblood", "Amnesia", and the band's new releases such as "Complete Mess" and "Take My Hand", The 5 Seconds of Summer Show will surely be a night to remember. Alongside the band's huge tour announcement, they're also releasing a new live album – "The Feeling of Falling Upwards – Live from The Royal Albert Hall". Make sure to sign up and share this unique feeling with 5SOS at The 5 Seconds of Summer Show by booking your tickets now!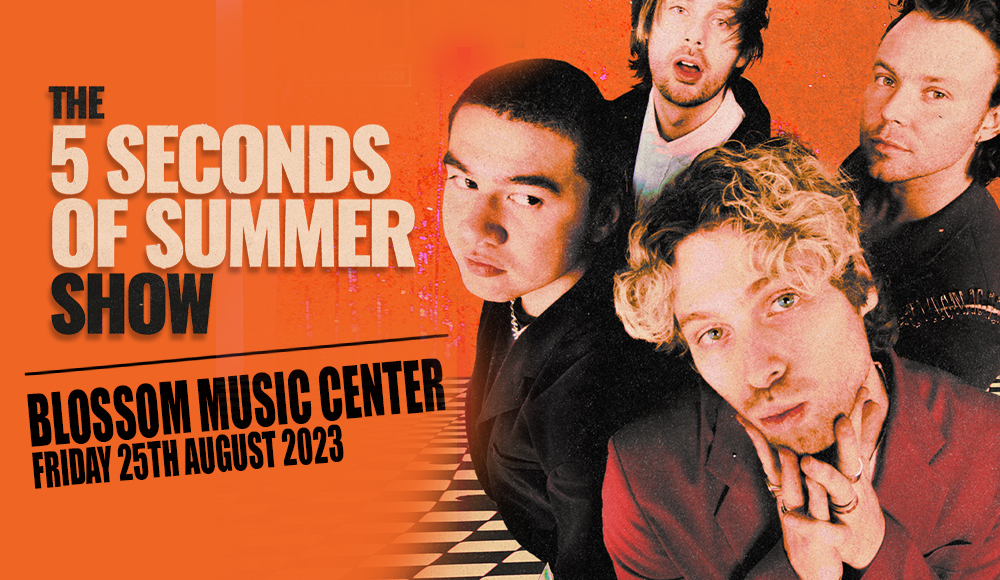 Jet-set to throw endless parties, celebrating over a decade of fueling passion for pop-rock anthems, 5 Seconds of Summer is taking their special 5 Seconds of Summer Show for another spin this coming summer! After massive waves of success and acclaim for the tour's first run back in 2021, the band is gearing up to serve extra doses of rockin' nights to remember on tour.
Alongside 5SOS' big tour announcement, the band is also dropping its newest live album – The Feeling of Falling Upwards – Live from The Royal Albert Hall. The album was recorded at the iconic concert venue featuring a 12-piece string orchestra and a 12-member gospel choir, serving a new flavor to the band's iconic hits including "Youngblood", "Take My Hand", and "Me Myself & I".
The special performance followed the big release of the band's fifth studio record, "5SOS5". The album marks the band's first independent release under BMG Rights Management. "In many ways, this album feels like the first one to me," Luke Hemmings shared with NME. "…this time around, we had this freedom and sense of feeling carefree, in a way that we didn't really have the last time around. I think that really shines through in the lyrics: everything has changed, and nothing has changed for us. It was nice to feel as though we're able to do all of this on our own."
5SOS5 features the band's new singles and crowd-favorites including "Complete Mess", "Take My Hand", "Me Myself & I", "Blender", and "Older" featuring Sierra Deaton. The LP is highly acclaimed for its servings of nostalgia paying homage to the band's early sound, and highlighting the band's growth with amazing lyricism, astounding production, and diving into new sounds that definitely slayed.
As 5SOS5 serves doses of who they were, who they are, and their future journey as artists, the same can be expected from The 5 Seconds of Summer Show as it packs five iconic 5SOS eras in breathtaking nights of live hits and new music.
"We've changed a lot over the years, and the way we created music needed to change with that as well," Michael Clifford shared with NME. "This has been the only album where we haven't premeditated a creation start day… we just booked a trip, and decided to hang out and see what happens".
Sharing lessons of growth, friendship, and brotherhood over the course of ten years in the industry. From YouTube covers and busking to sold-out world tours, 5SOS came a long way from their global breakthrough with "She Looks So Perfect". "…we have started to love and respect our band deeper than ever." Ashton Iwrin shared about the 5SOS5 era.
"We wanted to slay this shit. So we did," Ashton shared in an interview with DORK. With 5SOS5 dominating global airwaves, and getting to play at the Royal Albert Hall, the band definitely slayed and proved their passion for their craft.
As The 5 Seconds of Summer Show comes to you live this summer, make sure to save your spots at the party at Blossom Music Center by booking your tickets now!