Blossom Music Center Seating Chart
With a amphitheatre design the Blossom Music Center can seat over 19,000 people in total.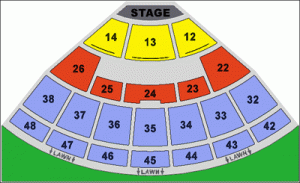 To ensure you get the best seat we advise purchasing tickets from designated seating areas. If you wish to purchase tickets for the lawn be sure to get there early to pick yourself a good spot!
The difference in colors on the seating chart image above represent the difference ticket price.
Capacity
The designated seating area has 5,700 seats, even more space available on the lawn which can accommodate an impressive 13,500 people!